Blog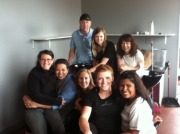 Salon Saloon is Moving!
Posted by Russell Springsteen - Jun 06, 2012
We're proud to announce that we are relocating and expanding the salon to 225 East 16th Street, in the SoFo District of Downtown Traverse City.
Opening SOON! Check back often here and at facebook.com/salonsaloon for details and updates.

PermaLink

Comments
(3)
---
Aug 28, 2013
Comment by: John primerasalonandspa

Orlando Salon and SpaGreat tips,very well-written...This is one of the best blog I've seen for salon with lots of information and tips. Its really interesting to many readers. Thank you so much for this information.

---
Nov 30, 2018
Comment by: IdViking IdViking


---
Nov 30, 2018
Comment by: IdViking IdViking


---